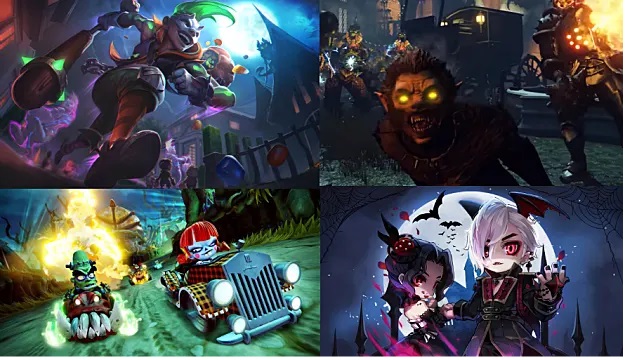 Halloween is just around the corner. To help get you in the 'spirit' of things (groan!) here is a shortlist of mobile games that we at Flexsimba have compiled. You don't need to worry about running out of data because with Flexsimba we offer a solution for every need. You can enjoy playing all of the games, browsing YouTube, or getting hints from Pinterest using our data from just £10 a month.
Halloween Theme– Available on Android and IOS, this is a simple app that allows you to change your screen's background with an HD wallpaper. Rated 4.6/5 stars on Android, this is sure to be a favourite!
Hidden Object Halloween- Haunted Holidays- Also available on Android and IOS, this is a great game for hidden-object lovers! Highly rated with 4.3/5 stars, it boasts great graphics, catchy melodies, hints and zoom features and much more.
Halloween Witch Connect– Available on both Android and IOS, and rated an impressive 4.5/5 stars, it is a match-3, fun-filled game with over 2000 levels. This is a very addictive game and can keep you busy for hours!
Magic Alchemist– Another highly rated app (4.6/5 stars) available on both Android and IOS platforms, this is another game to obsess with! You will need to merge objects until you discover the final and most mysterious object on the way to becoming the most famous alchemist.
Plants vs Zombies– With a rating of 4.8/5 on the App Store, this is another winner to keep you occupied. Zombies are about to invade your home- get ready to zap them with your arsenal of plants in the garden before they manage to break in!
Walking Dead- Dead Yourself– This is unlikely to be one for the youngsters due to it looking quite realistic. This is the official free app from Fox and again has high standard reviews and is available on IOS and Android. Simply upload a photo of yourself and watch your creation come to life.
If this doesn't wet your appetite enough, just think of all the other things you can do with your data from Flexsimba! You can get up to 20gb of data with our plans, and there is a plan to suit everyone.
What about finding makeup tutorials on YouTube to help you get the look that you want? Then there is Pinterest- full of fabulous ideas, not only for makeup but for recipes too if you're having a Halloween get-together. And not forgetting Netflix, for the spine chilling films you can stream- if you dare!
Click here to get yourself a great deal from Flexsimba- from £10 per month, no credit check and no contract.