The wait is finally over! Mobile users are now able to instantly end their mobile contract just by sending a text to their current network provider, as confirmed by Ofcom. This 'game-changing regulation' will give customers the control back when changing contracts to Sim-Only mobile plans from the likes of Flexsimba and other network providers.
In turn, it will save customers millions of pounds from notice-period charges, which is often the reason why people find it difficult to terminate a contract in the first place.
Mobile customers can now avoid online cancellations, or long phone calls to their operator when they want to make a switch. Ofcom also stated that it will ensure fewer people will be "put off by the hassle of switching mobile network providers".
Previously, mobile customers who wished to switch to a different network provider had to contact their current supplier about anything regarding cancellations. In fact, it was a huge impact on why many customers refused to change and continue to bare the overpriced costs.
For example, Ofcom has recently revealed that nearly a third of mobile customers have found it very difficult to cancel their previous service. And people who consider switching but then decide to remain amounts to 45% as it would be time-consuming.
It shouldn't be this way and thankfully it has come to an end!
Let's take you down to the three simple variations of cancelling your mobile phone contract while taking full control of your any occurring changes on your terms.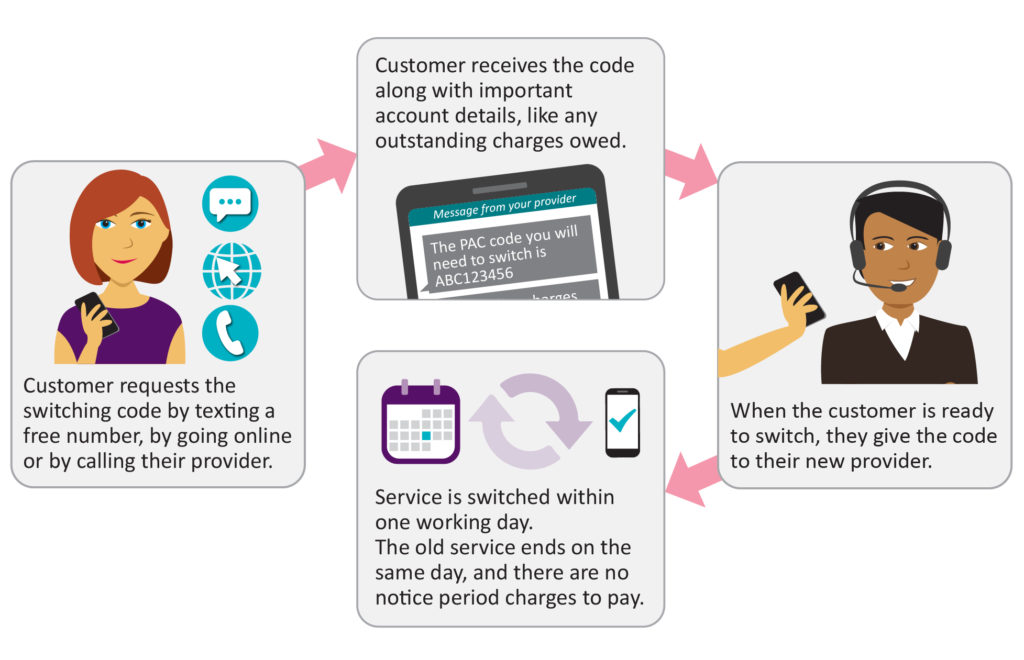 Text 'PAC' to 65075 to keep your mobile number
It's common for people to want to keep their mobile numbers when they are looking to switch providers. If would like to switch and keep your existing number, simply just text 'PAC' to 65075 to start the process.
You will receive an automated text from your current provider with an issued (PAC) code, which will only be valid for 30 days, which comes with further information such as early termination charges or pay-as-you-go credit balances.
The code is then given to your new network provider for the switching process which can take up to a day. The new process was made to ease the cancellation process with network providers while looking for new deals whether in-store or online.
Text 'STAC' to 75075 to receive a new number
As mentioned above, most people who wish to switch are likely to keep their existing numbers, while on the other hand one in six does not. You can simply text 'STAC' to 75075 to request a "service termination authorisation code'.
Again, it makes the switching process much easier and similarly works the same as above.
Text 'INFO' to 85075 to find out more
If you're unsure whether you're still bound to a contract and thinking of leaving, you can simply text 'INFO' to 85075 for early termination charges without requesting a switching code.
And from now on, Ofcom has banned mobile providers from charging people for notice periods after the switch date.
Not found an alternative mobile network provider yet. And looking for the benefits of a contract without being tied into a contract? Flexsimba allows you to get a mobile plan on your terms. A plan with no contract, meaning you're free to pause or stop your plan. It's easy to set up and flexible, with plans starting from £10 For Unlimited Texts, 1000 Minutes and 2GB data.
Get yours, today!