EE returns as Glastonbury Festival technology partner for the sixth year, in a long-standing partnership spanning over 19 years
State of the art 5G network to be installed at Worthy Farm in landmark trial making Glastonbury the UK's first 5G-connected Festival
EE predicts a record amount of data to be used. In other words, more than 70 terabytes, equivalent to 784 million Instagram posts. Or, 19 million downloads of Pyramid Stage headliner Stormzy's 'Shut Up'
Festival-goers can, therefore, stay connected with super-fast phone charging and power bar swapping at the EE Recharge Tent
The official Glastonbury 2019 app will be available to download in May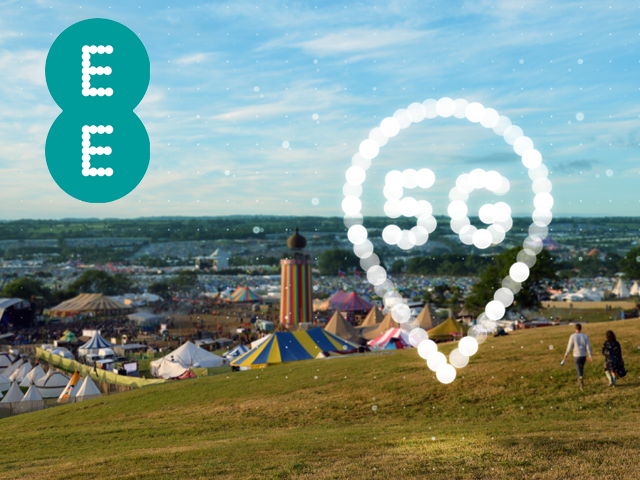 On 24th April EE revealed that it is the technology partner of Glastonbury Festival for the sixth year. The network will trial 5G mobile technology at Worthy Farm to make Glastonbury the UK's first 5G-connected festival, and once again bring the most powerful 4G network seen at any UK event to the 900-acre Somerset site.
Again, to keep festival-goers connected throughout the weekend, EE will be installing five temporary masts across the site to add to the permanent site at Worthy Farm. While broadcasting 2G, 3G, 4G and 5G for the first time. Similarly, Festival-goers will have the opportunity to try out the brand-new 5G network technology for themselves via 5G-powered Wi-Fi. Because it ensures that sharing those electrifying festival moments will be made easier than ever before.
EE Recharge Tent
Music fans will once again have access to the brilliant EE Recharge Tent, so they can stay connected throughout the weekend. Open from Thursday 10 am to 10 pm, the EE Recharge Tent will have more chargers than ever before and is free to all, regardless of network. By the same token, Wireless and USB charging stations will charge compatible phones in under thirty minutes. Moreover, taking the stress away from running out of battery, losing friends or the important bit, coupled with not being able to snap photos and post them on Instagram during the weekend's festivities. While logging your memories and making your friends jealous.
Not to mention, those that don't want to miss a minute of the action are now able to purchase a Juice Tube Power Bar (£20) offering one full charge at the EE Recharge Tent. When it runs flat, Juice Tube Power Bars can be swapped for free once a day for a fully charged one at the EE Recharge Tent. And probably, EE Exchange Cabin, meaning festival-goers can charge their phone on the move.
Glastonbury Mobile App and Data
The official Glastonbury 2019 app, will be available to download in May. Thus, allowing festival-goers to plan their line up and find their way around the site. More information on the official app will be announced in the coming weeks.
In 2017, a whopping 54 terabytes of mobile data was used over the festival weekend by Glastonbury goers sharing pictures and videos of their festival memories. In addition, streaming content and keeping up to date with events away from the festival. On the other hand, EE predicts this figure will once again skyrocket with a 40% increase compared with 2017, to more than 70 terabytes of data. Which is equivalent to 784 million Instagram posts or 19 million downloads of Pyramid Stage headliner Stormzy's 'Shut Up'.
As a matter of fact, EE's superfast 4G network, now with a trial of 5G, has been built to cope with the huge data demand from the 200,000 festival-goers expected to attend Worthy Farm from 26th June to 30th June.
Emily Eavis at Glastonbury Festival commented: "We're extremely pleased to have EE back again, providing the best possible network for our rural site. And it's great that we're going to be one of the first places in the UK to offer 5G."
Pete Jeavons, Marketing Communications Director at BT and EE said: "Smartphones have become a festival must-have as we've seen each year. Hence, more and more data was being consumed at the Glastonbury Festival. As the long-standing technology partner to this iconic event. And we are committed to building a network powerful enough to cope with this huge demand. With the introduction of 5G this year, we are able to trial this new technology at Worthy Farm and make history as the UK's first 5G-connected festival."
Like what you've read? Check out our latest blog post about 4 Tips to Reduce Your Mobile Data Allowance on how you can take control of your mobile network.